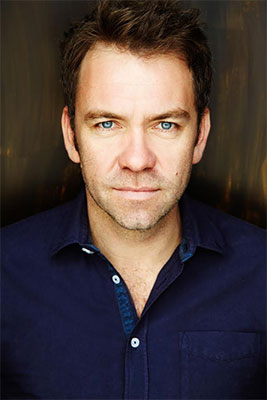 Brendan Cowell - President
Brendan Cowell is an Australian actor, screenwriter, comedian and director. He was born in Sydney in 1976. He stumbled upon acting by accident while waiting for his sister to come out of a rehearsal; he was then cast in a commercial at age 8. He went to Charles Sturt University, in Bathurst, to complete a Bachelor of Arts in Theatre/Media, originally considering journalism as a career option. He won the Patrick White Playwrights' Award for his third play Bed along with a collection of other awards. His play Ruben Guthrie showed at the Belvoir St Theatre in 2009 to sell-out houses. His most famous acting role is playing the enigmatic Tom on Australian cable TV's Love My Way, he also played in Rush, The Slap or The Borgias. He acted in Sydney Theatre Company's production of True West, directed by Philip Seymour Hoffman, in 2010. He published in 2010 his first novel: How it Feels. As an actor he played in features films including Kick (1999), The Monkey's Mask (2000), Suburban Mayhem (2006), Noise (2007) for which he won Best Actor at the Saint-Tropez Antipodes Film Festival 2007, Three Blind Mice (2008), I Love You Too (2010), Beneath hill 60 (2010), Save your Legs! (2012), Last Cab To Darwin (2015), Broke (2016). Ruben Guthrie is his first directing. He was recently on the London stage at Young Vic with Yerma.
---
Alexia Barlier
Alexia comes from a family of artists. Her New Zealand-born mother was a classical dancer and yoga teacher, her father was an art gallery director and her grandfather, a painter. She grew up with a love of theatre and took classes at the Cours Simon Drama School in Paris during high school. She began her acting career in 2002, appearing in 24 Hours in the Life of a Woman by Laurent Bouhnik, followed by Vipère au Poing by Philippe de Broca in 2004, before landing her first roles in television dramas. In 2007, she played in two short films directed by the Larrieu brothers for the Talents Adami initiative at the Cannes Film Festival. She went on to join the cast of Ambitious by Catherine Corsini, followed by Conversations with My Gardener by Jean Becker, in which she played Daniel Auteuil's mistress. In 2010, she took the title role in Kali for Canal+, then played the female lead in the television productions Tempêtes and La Loi Selon Bartoli. She was cast in Amitiés Sincères in 2012 alongside Gérard Lanvin, after which she spent three years co-starring with Sagamore Stévenin in the television series Falco. In 2014, she played in the films L'Affaire SK1by Frédéric Tellier and Sex, Love & Therapy by Tonie Marshall. She was lured to Hollywood in 2015 to play in Michael Bay's film 13 Hours: the secret soldiers of Benghazi. In 2016, she co-starred in the comedy Tout Schuss opposite José Garcia. She recently co-starred with Samuel Labarthe and Suzanne Clément (Mommy) in the series La Fôret. A fan of sports and thrill-seeking adventures, Alexia has a passion for rock-climbing and mountaineering. She will be soon on TV Chanel France 2 in Imposture.

(Photo : Arno Lam)
---
Muriel Combeau

Muriel may be familiar to audiences for her role as a career-obsessed seductress in the television series Avocats et Associés, or her performance in Nicole Garcia's film A View of Love. She has appeared in films by Gérard Oury, Arthur Joffé, Chantal Akerman, Coline Serreau and Thomas Gilou, and works extensively in television dramas (including Disparue, Doc Martin, Les Dames, Fais pas ci fais pas ça). Her career began at the age of 14, when she single-handedly staged her first play, Exercices de Style by Raymond Queneau, which she performed in a series of small theatres. Since that time, she has regularly appeared on stage in both private and state-supported productions, under the direction of Benno Besson, Jean Bouchaud and Benoît Giros, among others. She wrote and performed in two stage productions in collaboration with Nathalie Levy-Lang: Parce que ça vole (Théâtre de la Pépinière) and Inséparables (Ciné 13). We will soon see Muriel in Nina on the France 2 network and in a web series that will also be broadcast on Canal +, Ma pire angoisse.


---
Aurélien Recoing
Born in Paris in 1958, Aurélien joined the Conservatoire National Supérieur d'Art Dramatique in 1977. He went on to appear in over thirty theatre productions, as well as directing stage performances of works by renowned playwrights. He won the Gérard Philipe Prize in 1989. He began his film career in 1980 with a role in Les Exploits d'un jeune Don Juan. Pursuing a strong interest in auteur cinema, he worked with directors including Philippe Garrel (Emergency Kisses) and Laurence Ferreira Barbosa (Modern Life). He achieved acclaim in 2001 for his performance in Laurent Cantet's Time Out. He then alternated between mainstream films, including Ruby & Quentin (aka Shut Up!) and That Woman (aka Hanging Offense), and independent films, such as L'Ennemi Naturel and Orlando Vargas. He also appeared in 13 Tzameti, Forgive Me, Fragments of Antonin, Intimate Enemies, Paris Nord Sud and La Saison des Orphelins. In 2009, he was cast in Diamond 13 and Tomorrow at Dawn, followed by The Horde, Joseph and the Girl, Cargo, The Lost Men, Switch and Kill Me Please. He played in Blue Is the Warmest Colour, which won the Palme d'Or at Cannes in 2013, and, more recently, in Pure Life and Despite the Night. Since 2012, he has served as an elected member of the UniFrance Executive Committee. His work for television includes the series Les Revenants and the mini-series Trepalium. He is currently set to take the director's chair on two upcoming projects, the short film Un Bon Tireur and the feature film À Mains Nues, based on the novel by Michel Quint. He is also actively involved in the creation of the cultural platform Postmodern.

(Photo : François Berthier)
---
Yann Samuell
A director and screenwriter, Yann Samuell was born into a family of actors. While studying film and television, he supported himself as an illustrator and painter. Alongside his graphic design commissions, he wrote and directed a host of short films and several documentaries and music videos. In 2003, he wrote and directed the feature film Love Me IF You Dare, starring Marion Cotillard and Guillaume Canet, which was highly acclaimed around the world. He has shown his talent in a wide variety of genres and subjects, ranging from rom-coms and fantasy to films for children, including My Sassy Girl, With Love… From the Age of Reason starring Sophie Marceau, Formosa Betrayed, The Great Ghost Rescue and, in 2011, War of the Buttons. In 2014, he directed The Canterville Ghost, starring Michaël Youn and Michèle Laroque. He has a strong interest in visual style and imaginary worlds, and produces illustrations of all key scenes of his films in the pre-production stage. Nonetheless, his great passion is for creating characters and writing dialogue.
---