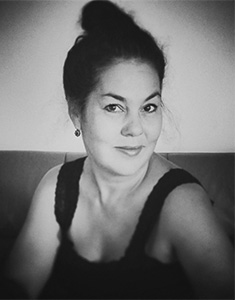 Greta Morton Elangué - President
Greta Morton Elangué is an artistic director, filmmaker and researcher. Founder of the Australian Aboriginal Film Festival in Paris, curator of the film selections (Re)Claming the Cosmos (Musée du Quai Branly Jacques Chirac), Black Australia and Films d'Auteur/Langues Ancestrales (Musée du Quai Branly Jacques Chirac), Greta Morton Elangué has been working for the past 10 years as a cultural activity initiator in the form of screenings, panel discussions and exhibitions. Her events aim to promote the versatility and power of Black (and) Indigenous cinema in Australia and around the world. She is also a director, a writer published in the English press (The Guardian, SBS), a lecturer at universities in France and England and a speaker at film festivals in France and Europe. She is Australian and grew up in Naarm (Melbourne, Australia). Greta has degrees in film directing and writing from the Victorian College of the Arts in Melbourne, in visual arts from Victoria College, Prahran Campus and in history from EHESS (Paris, France). She currently lives in Paris.


---
Gérard Krawczyk
Gérard Krawczyk is a graduate of the University of Paris IX Dauphine (Master's degree in Management and Economics) and of IDHEC / FEMIS, Directing and Filming. In 1986, he wrote and directed his first feature film, "Je hais les acteurs" (I hate actors), nominated for a César award and the Michel Audiard prize, followed by "L'été en pente douce" (Summer on a gentle slope). In 1997, after having directed a hundred or so advertising films, he returned to feature films with "Héroïnes", a musical film that was a premonition of Star Academy and The Voice. The same year, he started shooting the first "Taxi". This was also the beginning of nine years of collaboration with Luc Besson as producer: "Taxi 2", "Wasabi", "Taxi 3", "Taxi 4" and "Fanfan la Tulipe" (opening out of competition at the 56th Cannes Film Festival). In 2005, he co-produced and directed "La vie est à nous" where he returned to the world of his first intimist films. His tenth film, "L'auberge rouge", takes us into a visual and sound universe of fantastic tales, rare in a comedy. Over the period 2000 - 2010, he is second at the box office in French cinemas behind Peter Jackson ("Lord of the Rings", "King Kong"...) with nearly 25 million admissions. In 2013, he directed in New York the last two episodes of the TV series "Taxi Brooklyn", written by Gary Scott Thomson ("Las Vegas", "Fast and Furious"...), series broadcast on TF1 in France and on NBC in the United States. In 2014, he signed a 110-minute documentary, "Marseille!" portrait of the city of Marseille. 2015 /2016, Writing a novel, screenwriting. 2017/2020, publication of the novel Foudroyé(s), Editions du Cherche Midi. Exhibition of photos "1 image out 140.000" in the United States. Writing of the screenplay " Russian dream " currently in pre-production in Russia.


---
Hugues Peysson
For the past 15 years, Hugues Peysson has been running the companies L'atelier d'images et L'atelier distribution with his partner Pierre Paga. A company that specializes in the distribution of documentaries to the cinema: "Sugarland" & "2040" by Damon Gameau, "RBG" by Betsy West and Julie Cohen, "Billie" by James Erskine and "9 days in Raqqa" by Xavier de Lauzanne - Official Selection Cannes 2020. This year, it is broadening its spectrum by programming "Slaughterhouse" by Abbas Amini, Grand Jury Prize at the Reims crime film festival, the cult film "Rocky" by John Advilsen and the Grand Jury Prize "Generation 14plus" at the Berlinale 2021: "La MIF" by Fred Baillif. It also produces documentaries for television: "Cannes 1968 – Révolution au palais", "Belmondo le goût du risque", " Dans les pas de Jean-Paul Rappeneau" or "Yves Robert le cinéma des copains" and "Le temps détruit tout, l'odyssée d'Irréversible". The company is also a recognized video editor: "The Private Life of Sherlock Holmes" by Billy Wilder, "Ragtime" by Milos Forman, "Evil Dead" by Sam Raimi, "Shine" by Scott Hicks, but also "Crash" by David Cronenberg with Carlotta or the boxed sets "François Truffaut - Passion Cinéma" and "Mystery Road" with Arte Video
---
Lilly-Fleur Pointeaux
At the age of five, she began a career as a model. Then she took acting classes at the Conservatoire Hector Berlioz in Pavillons-sous-Bois. She was cast in numerous feature films and TV movies such as "Parlez-moi d'amour" by Sophie Marceau, "Les Voies du Paradis" by Stephan Kurc, "Un petit parisien" by Sébastien Grall, and "Fais-moi des vacances" by Didier Brivel. But the consecration for the young actress is a leading role in the flagship series on France 2, "Nos années pension", where she plays the character of Morgane. The series is a success, and allows Lilly-Fleur to make a name for herself in comedy. She lands the role of Natacha, the daughter of the heroine Alice Lerois, in the series "Seconde Chance" on TF1 broadcast between 2008 and 2009. She made her theatrical debut in " La Salle de Bain " by Astrid Veillon and then played Sophie in the French adaptation of " La Pire Semaine de ma vie " by Frédéric Auburtin (2011), a M6 mini-series. We also find her on Canal + in "Platane", by and with Éric Judor. She plays in " Ma première fois " by Marie-Castille Mention-Schaar alongside Esther Comar and Vincent Pérez. In 2013, she played in the video clip " Girls " of the French group De La Montagne. She shoots in English " Horsehead " by Romain Basset alongside Catriona MacCole, Murray Head and Philippe Nahon. In 2015, she joined the cast of the successful series " La vie devant elles " by Gabriel Aghion (France 3) where she plays one of the main roles. In 2016 she turns in the Canal+ series, "Versailles" as well as the second season of "La vie devant elles". In 2018 she is alongside Stéphane Bern in " Meurtres en Lorraine " by René Manzor. She was also seen in the series "Falco" and "Candice Renoir". In 2020 she was in " La Garçonne " on TF1, with Laura Smet and Grégory Fitoussi. In parallel, she is a member of a pop-rock band called The Small Ladies. They release their first EP, "6 am" in 2016 in digital and vinyl format.
---
Sonia Rolland
She was born in Kigali, Rwanda, from a French father and a Rwandan mother. In 1991, they escaped the conflict that led to the 1994 genocide. The family then left their native land to join the city of Cluny. At only 18 years old, Sonia became the first Miss France of African origin. In 2002, she got her first roles alongside Radu Mihaïleanu in " Les pygmées de Carlo " for Arte, then " Léa Parker " on M6. She was directed by Bertrand Tavernier in "Quai D'Orsay", Etienne Faure in "Désordres", Jean Marboeuf, Richard Bohringer, Amanda Sthers in "Madame", and even made an appearance in Woody Allen's film "Midnight in Paris" playing Josephine Baker. From documentaries to short films through fiction, her motivation is to share parentheses of life filled with authenticity and veracity. Thus in 2014, she directed "Rwanda du chaos au miracle", then co-directed "Homosexualité : du rejet au Refuge", and in 2018 "Femmes du Rwanda" co-directed with Jacques-Olivier Bénesse for the Planète+ channel. In 2016, she directed her first short film " Une vie ordinaire ". Since 2019, she plays the commander Melissa Sainte-Rose in the series "Tropiques criminels" on France 2. She is currently finishing writing her first film "Un destin", which tells the incredible fate of a candidate for the election of Miss France. The filming is scheduled for 2022
(Photo : Sylvie Castioni)