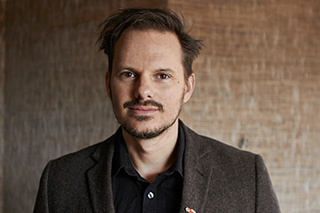 Andrew Lancaster - President
Andrew Lancaster is an Australian director and composer based in London and Sydney. He graduated from AFTRS in 1994 where he directed and composed the short films Palace Café and Universal Appliance Co. He co-founded Supersonic and over the past eighteen years, Andrew has had a career combining music and film. In 2001 his short film In Search of Mike was invited to have its World Premiere at Sundance, also picking up the Dendy Award and the prestigious Rouben Mamoulian Award at the Sydney Film Festival. In 2002 he was awarded the Best Rising Talent at the IF Awards. His debut feature film, Accidents Happen (starring Geena Davis), premiered at Tribeca Film festival in 2009 and won prestigious festival awards at Giffoni in Italy, Stiges in Spain, and the Netherlands. In 2010 he founded the music collective Sonar Music and joined Photoplay Films as a director. He won the 2012 AACTA award for Best original Music for The Hunter by Daniel Nettheim. His second feature The Lost Aviator won a special Jury mention at the Sydney Film Festival in 2014. He has directed a feature documentary Joud, a cinematic journey through Arabia, due for release in late 2017. His unique directing style combines cinematic vision, natural performances with a strong emphasis on music, sound, choreography and rhythm.
---
Manuel Blanc
Manuel Blanc is a French actor born in 1968. He studied theatre at the ENSATT (the rue Blanche school) and began his acting career in 1991 with André Téchiné's acclaimed J'embrasse pas (I Don't Kiss), for which he was awarded the César for Best Male New Talent in 1992. His role in Serge Moati's Des feux mal éteints won him the Jean Gabin Prize. On stage, he had the lead role in Ladies Night, adapted from The Full Monty, which won the Molière for Best Comic Play. Manuel Blanc has appeared in several plays, with such directors as Jeanne Champagne, Jean-Claude Fall and Jerome Savary; he also adapted Pouchkine's Secret Journal. He has played in a dozen feature films directed by Edouard Molinaro, Laurent Bouhnik, Werner Schroeter, Bruno Bontzolakis, and Anne-Marie Miéville, to name but a few. While continuing his acting career, Manuel Blanc wrote his first novel, Carnaval, published by Stéphane Million/Hugo Roman in 2014. He played in the TV series Les Dames (épisode entitled Dame de feu) and in three Antony Hickling films, Little Gay Boy, One Deep Breath, and Where Horses Go to Die. In 2016, he was directed by Josée Dayan in Capitaine Marleau opposite Corinne Masiero and Sandrine Bonnaire, and we will see him in the mini-series Le Chalet, which will air on France 2 this November. His second novel, Les corps électriques, will be published in January 2018 by Editions de l'Observatoire.

(Photo : Hannah Assouline)
---
Mariane Denicourt

As a teenager, she made her first appearance on the big screen as an extra in Robert Bresson's film L'Argent. She attended workshops led by Antoine Vitez at the Théâtre National de Chaillot before joining the prestigious École des Amandiers, under the direction of Patrice Chéreau. She played Ophelia in Chéreau's staging of Hamlet at the Avignon Festival, held in the famous Court of Honour of the Papal Palace, and followed the production on its international tour. She also played the lead in The Lover (1993), an elegantly naturalistic film by Jacques Doillon featuring students from the École des Amandiers. In the meantime, she became one of the muses of French auteur cinema, working with Jacques Rivette in The Beautiful Troublemaker and Up, Down, Fragile, in which she plays a singer and dancer, as well as Patrice Chéreau (Hôtel de France), Benoit Jacquot (Sade), Arnaud Desplechin, Michel Deville, Chris Menges, Raoul Ruiz, Romain Goupil, Claude Lelouch and Valérie Guignabodet. She has regularly performed on stage, under the direction of Pierre Roman, Luc Bondy, Louis-do de Lencquesaing and Marc Paquien. She played the title role of Joan of Arc in the opera Jeanne au bûcher by Paul Claudel and Arthur Honegger. In 2016, she performed in a production of Harold Pinter's Old Times at the Théâtre de l'Atelier. She has directed two documentaries about Afghanistan, one of which, Nassima, une vie confisquée, won the Média de la Fondation de l'Enfance Prize in 2009. In 2014, she was nominated for a César Award in the Best Actress category for her role in Thomas Lilti's film Hippocrate. In 2016, she played the lead female role in Médecin de campagne, also directed by Thomas Lilti, alongside François Cluzet. In 2017, she was awarded the title of Chevalier des Arts et des Lettres.


(Photo : Philippe Quaisse)
---
Caroline Proust
Caroline Proust has always had a passion for the performing arts. She studied at the Montpellier Conservatoire before moving to Paris, where, thanks to her stage experience, she was cast as an extra in Cédric Klapisch's Good Old Daze, a film that launched the careers of Romain Duris and Vincent Elbaz. She landed her first supporting role in Le Cousin, delivering a compelling performance opposite two giants of French cinema, Patrick Timsit and Alain Chabat. She went on to co-star in Pierre Dugowson's comedy Ouvrez le Chien, about a mismanaged holdup. 2005 was a turning point in her career, when Canal + signed her up as one of the leads in Engrenages (Spiral). In this series, she plays Laure Berthaud, an implacable police inspector who doubles as a detective for the Criminal Investigation Department. This hit series was exported to around seventy countries and is regularly aired in prime time on Canal +. Following this acclaimed performance, Caroline played alongside Jean Dujardin and Jean Reno in Ca$h, a film that blends drama, comedy and romance. She then played lead roles in a string of TV films (La République des Enfants, Pourquoi personne me croit? and Accident de Parcours), before returning to Canal + to appear in the series Tunnel, a remake of The Bridge. Caroline can be seen in 2017 on Canal + in Season 6 of Engrenages. She is also preparing to co-direct a short film, Jounaliste(s), with Etienne Saldès.

(Photo : Julien Vallon)
---
Sagamore Stévenin

Born in Paris in 1974, Sagamore Stévenin began his acting career in 1991 in Claude Zidi's feature film La Totale. Subsequently, he appeared both on the big and small screens. In 1996, he played the role of his father Jean-François Stévenin at a young age in René Féret's Les Frères Gravet. He then quickly landed leading roles with La Cible by Pierre Courrège (1997) and Comme une bête by Patrick Schulmann (1998). But it's in 1999 that he became known to the public thanks to his role in Catherine Breillat's Romance, which caused a scandal. A versatile actor, Sagamore Stévenin likes to explore different genres: young pre-war movie actor and Marion Cotillard's lover in Lisa (2001), hired killer in Sueurs (2002), gypsy in Errance (2003), race car driver in Michel Vaillant (2003). As far as comedy is concerned, he appeared in Philippe Harel's Tu vas rire mais je te quitte in 2004, and made a foray into the thriller genre in 2006 with Un printemps à Paris by Jacques Bral. In 2014, he played in Mange tes morts - Tu ne diras point by Jean-Charles Hue. At the same time, he also appeared in several TV movies, directed by, among others, Roger Vadim, Pierre Boutron, Caroline Huppert and Patrick Volson. Between 2013 and 2016, he played the much-loved hero of Falco, a very successful TV series. In 2016, we saw him in the TV series Innocente opposite Julie de Bona, and in 2017 in Altitudes opposite Claire Borotra.
---