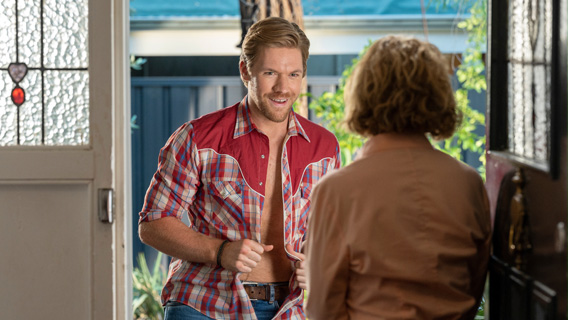 HOW TO PLEASE A WOMAN
Australia / 2022 / 107min / DCP / Comedy


Director : Renée Webster

Script : Renée Webster
Cinematography : Ben Nott
Editing : Merlin Eden
Music : Guy Gross
Production : Tania Chambers OAM, Judi Levine
Cast : Sally Phillips (Gina), Tasma Walton (Monique), Erik Thomson (Steve), Alexander England (Tom), Cameron Daddo (Adrian), Hayley McElhinney (Hayley), Caroline Brazier (Sandra), Ryan Johnson (Anthony), Josh Thomson (Ben)
Introduced by Renée Webster, Tania Chambers and Judi Levine
Gina has lost her job and feels stuck and frustrated in a passionless marriage. She has always lived life on the sidelines, until she is met with the groundbreaking business opportunity of converting a team of wellbuilt moving guys into well-built housecleaners. Finally, she is the boss she has always wanted to be. But, as her business booms, her clientele demands something more – sex, or better yet, pleasure! Often hilarious it is a revealing journey into the vulnerable world of what women really want and how hard it can be to get it right.
Renée Webster
As both Writer and Director Renée Webster is known for her ability to emotionally reach her audience, across a range of genres and formats.
Recent directing work includes Series 1 and 2 of the drama serial The Heights for Matchbox Pictures and NBC Universal. Renée was the Set-Up Director for the children's 10 x 30 mins TV drama ITCH for Komixx Entertainment in association with Feisty Dame Productions. Renée was nominated for a 2020 ADG award for her directing on The Heights.
Renée's work on commercial campaigns continues to receive international and national recognition. Renée won Silver in London at the FAB World Awards for her Brownes Campaign. Renée's direction on commercial campaigns also won Best in Show, Bronze and Silver Directing Awards at the PADC Awards, Best on Show at Oasis Campaign Brief Awards, and won a Silver Award at the 2016 Effie's.
Renée's short film Scoff secured awards and festival screenings world-wide, including Berlin Asia Pacific Film Fest (Berlin); LA Short Shorts Film Festival; Hampton Film Festival (New York); High Falls (New York); Female Eye Toronto Film Festival and All Time Best Shorts; London Australian Film Festival; Marco Island Film Festival (Florida); St Kilda Film Festival and Flickerfest International Film Festival. Her second short film Edgar and Elizabeth garnered awards and festival screenings including: World of Comedy Film Festival (Toronto); Short Shorts (Tokyo); St Louis International Film Festival (USA); Moondance International Film Festival (USA – Most Popular Film list); Rochester International Film Festival (Best of the Fest); St Kilda Film Festival; Perth International Film Festival (PIAF); Flickerfest International Film Festival and Brisbane International Film Festival (Top 5 Most Popular Films).
Renée's feature work includes attachments to directors Rowan Woods and Mark Lamprell. Renée was the Second Unit Director for A Few Less Men.
---