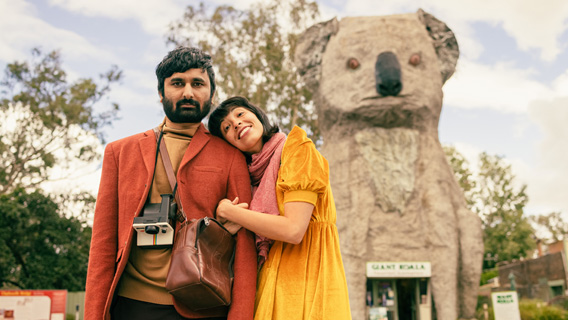 THE LONELY SPIRITS VARIETY HOUR
Australia / 2022 / 77 min / DCP / Comedy


Director : Platon Theodoris

Script : Platon Theodoris, Nitin Vengurlekar
Cinematography & Editing : Brian Rapsey
Music : Dimitri Vouros, Donald Baldie, Nick Wishart, Peter Theodoris
Production : Brian Rapsey, Platon Theodoris
Cast : Nitin Vengurlekar, Alison Bennett, Joyce Edmonds, Sabrina Chan D'Angelo, Teik-Kim Pok

Melbourne Festival 2022
Introduced by the director


Neville Umbrellaman is a verbose, velvet-voiced intellectual who hosts a late-night radio show from his parents' garage. The alter ego of Rabindranath Chakraborty, Umbrellaman is deeply committed to the program, a labour of love and fantastical fancy that masks deeper, more tragic truths. Luckily, he's got plenty of eccentric guests to help him out, from folk singer Kenneth Wong and Terry the neighbour to French baker Yvette and Chakraborty's secret crush, Sabrina D'Angelo. But is anybody tuning in?
Platon Theodoris
Platon Theodoris is an Australian film director, producer & screenwriter. Alvin's Harmonious World of Opposites, Platon's debut feature film premiered at the 2015 Revelation Perth International Film Festival and then won Best Narrative Feature at the 9th Sydney Underground Film Festival. Its North American premiere at the 2016 Slamdance Film Festival in Park City was a sellout. In 2017 the film won the Special Jury Prize for Best First Feature at the 50th WorldFest Houston International Film Festival.
Platon has made four short films: Para-Soul, Sunrise, Lakemba & Wine Lake. These films have screened at film festivals including Singapore, Brisbane, London BFI, Busan, St Kilda, Raindance, Flickerfest and Vancouver. His most recent short Wine Lake won the Nicolas Baudin Award for Best Short Film at the Festival des Antipodes in St Tropez.
Platon holds a Bachelor of Arts (Asian Studies) from the University of NSW, which included a two-year film-directing component (completed on an exchange) at The Jakarta Institute of Arts in Indonesia.
---