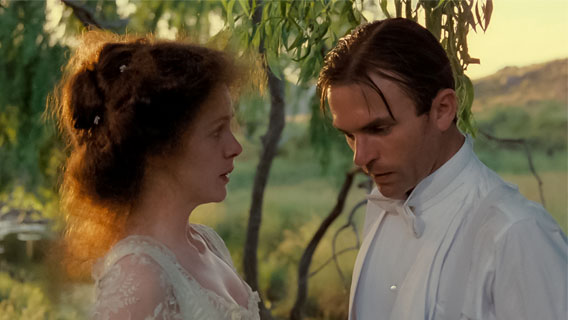 MY BRILLIANT CAREER
Australia / 1979 / 100 min / DCP / Comedy Drama
Courtesy of the National Film and Sound Archive of Australia
Director : Gillian Armstrong


Script : Eleanor Witcombe adapted from Miles Franklin's novel
Cinematography : Donald McAlpine
Editing : Nicholas Beauman
Music : Nathan Waks
Production : Margaret Fink

Cast : Judy Davis, Sam Neill, Wendy Hughes, Robert Grubb, Max Cullen, Julia Blake

Growing up in the Australian outback, creative and headstrong Sybylla Melvyn (Judy Davis) dreams of becoming a famous writer despite long odds and the objections of her family. Forced by money problems to move in with her rich grandmother (Aileen Britton), she soon makes the acquaintance of a handsome landowner, Harry (Sam Neill), and wins him over despite their class differences. When Harry proposes, Sybylla must choose between romantic love and the brilliant career she craves.
Official selection Cannes Film Festival 1979
Opening film
Gillian Armstrong
Producer, director and Australian screenwriter, she graduated from the AFTRS. Her film "My Brilliant Career" is the first Australian feature film directed by a woman from this country after a gap of 46 years. She directed, among others, Starstruck (1982), Mrs Soffel (1984), High Tide (1987), The Last Days of Chez Nous (1992), Little Women (1994), Oscar and Lucinda (1997), Charlotte Gray (2001), Death Defying Acts (2007). She also directedmany documentaries like Smokes and Lollies (1976), Fourteen's Good, Eighteen's Better (1980), Bingo, Bridesmaids & Braces (1988), Not Fourteen Again (1996), Unfolding Florence: The Many Lives of Florence Broadhurst (2006), Love, Lust & Lies (2010), Women He's Undressed (2015).
---