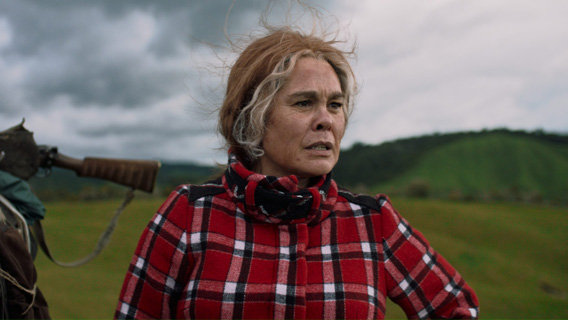 COUSINS
New Zealand / 2021 / 98 min / DCP / Comedy drama


Directors : Ainsley Gardiner & Briar Grace-Smith

Script : Briar Grace-Smith
Cinematography : Raymond Edwards
Editing : Alex Boyd
Music : Warren Maxwell
Production : Georgina Conder, Ainsley Gardiner, Libby Hakaraia
Cast : Briar Grace Smith (Makareta), Tioreore Ngatai-Melbourne(adult Makareta), Tanea Heke (Mata), Ana Scotney (adult Mata), Rachel House (Missy), Hariata Moriarty (adult Missy)
Connected by blood but separated by circumstances, three cousins, Mata, Missy, and Makareta, spend a lifetime in search of each other. The three of them live three very different lives but are bound together by blood. One of the cousins gets taken away from her family. Mata thinks that she has no family, has a lonely childhood and is always in fear. Makareta runs away from an arranged marriage to study law. Missy takes the role of the guardian of the land. Many years pass and the cousins made a promise to bring their stolen cousin home...
Ainsley Gardiner
Born in Palmerston North, she has produced several shorts ("The Hole", "Tama Tu") and feature films ("Eagle vs Shark", "Boy", "The Pā Boys") and co-directed "Waru".
Briar Grace-Smith
She is a New Zealand screenwriter ("The Strength of Water"), director ("Waru"), theater and film actress and short story writer, descendant of Nga Puhi and Ngāti Wai.
---