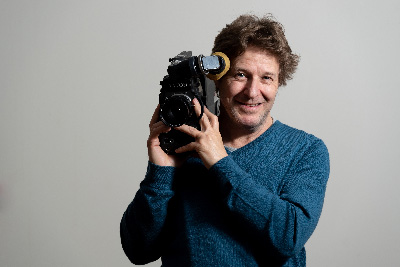 Ray Argall - President
A graduate of Australian Film Television and Radio School in Sydney, Ray has worked as a director, producer, cinematographer, editor and screenwriter on short films, feature films and documentaries. He has built a solid reputation as a cinematographer thanks to his work on films such as Wrong World, The Prisoner of Saint-Petersburg, With love to the person next to me and Look Both Ways. In 1990 he received the AFI Awards for best director for his first feature film Return Home which was also selected at the Berlin Film Festival. In 1992 he directed his second feature film Eight Ball. He also directs on television such as the series Seachange and MDA. He has produced and directed numerous video clips for Midnight Oil, Split Enz, Crowded House and Hoodoo Gurus, among others. He was also President of the Australian Director's Guild (ADG) from 2006 to 2015. In 2016, through Piccolo Films, he launched a film restoration company which uses 35mm and 16mm archive films to create restored digital versions in 2K and 4K. To date, there are 32 feature films and documentaries, 37 shorts and 71 restored video clips. In 2018 he directed the remarkable documentary Midnight Oil – 1984. In 2019 he was appointed a Member of the Order of Australia (AM) for significant service to film and television as a director and cinematographer. To keep body and soul alive, Ray plays ice hockey with a local Sydney team, and referees for IHNSW in junior and senior mixed and women's leagues.


---
Yamée Couture
Yamée Couture is a Franco-American actress and singer. Daughter of the musician and painter Charlelie Couture, she grew up between France and the United States. Before returning to France in 2014, she lived for four years in Montreal to study cinema. In 2016 she debuted in front of Cédric Klapisch's camera in Ce qui nous lie, then worked with Josée Dayan, Yvan Attal, Shaan Couture (her sister) and Guillaume Gouix, which earned her inclusion in the Talent Cannes Adami in 2019 in the film Mon Royaume presented at the Cannes Film Festival the same year. In 2021 she is filming with Rebecca Zlotowski for her next film Les Enfants des Autres alongside Virginie Efira and Roschdy Zem and appears in Hervé Hadmar's series Notre Dame du feu for Netflix. At the same time, she developed her first blues EP in English which she wrote, composed, performed in addition to performing on stage as a duo
---
Dan Herzberg
Dan Herzberg is an actor, musician, author, and screenwriter born in Paris. He trained in the 80s with Vera Gregh, at the circus school and at the stunt; at the same time, he participated in the Parisian music scene in the Funk and Hip-hop movements of the 90s. He crossed genres and forms, from TV to cinema, from music to theater; he works with filmmakers such as Luc Besson, Alain Corneau, Claire Denis, James Ivory, Guy Jacques, Lidia Terki, Xavier Durringer, Julien Despaux, Brian de Palma, Hubert Koundé, Pascal Elbé, Robin Campillo, Jan Kounen, Benoit Cohen, Roshdy Zem, Thomas Vincent, Alain Tasma and others… He has been an actor for thirty years and with a filmography of more than fifty films which include Bar des rails, Taxi, Femme fatale, Tu vas rire, mais je te quitte, The Tiger Brigades, 99 Francs, Chocolat, Paris la blanche, Une belle équipe and on television Medical Emergency, Un village Français, Mister Bob, Profilage, Zone blanche, Si tu vois ma mère, Chronicles of the Sun, Paris Police 1900, Syndrome E, Tropiques criminels.
---
Elise McLeod
She is a director, acting coach and screenwriter. Her recent films include Le Cœur du pélican (2023), Songlines (2019), Fish & Chicks (2016), The City of Ladies (2017) and The City of Witches (2018) - these last two having been directed and written with Zanny Begg. Her films have been screened at numerous festivals around the world, have been sold to various European television channels and have won awards for Best Film and Best Screenplay. Born in Australia, she has lived and worked in Paris since 1997. Graduated from the University of Paris VIII in cinema and directing she had directed and wrote several plays: K Surprise, Revoir Amélie, Toutes Coupables and Le Chat du Rabbin by Johan Sfar. Thanks to a lucky meeting in 2006, she began coaching actors like Audrey Dana (Romy Schneider Prize - César nomination for Most Promising Actor), Anne Charrier, Eriq Ebouaney, and many others. Her film Fish & Chicks won several awards and was broadcast on Ciné +, OCS, TV5 and Panaflix. She also made an art film, The City of Ladies, which was purchased by the Museum of Contemporary Art, Sydney and the University of Queensland. Her latest short film Songlines was selected at the Aubagne Festival and the Angoulême Festival. She is preparing her first feature film Le cœur du pelican.
---
Hervé Millet
After working in music for many years (Disc Jockey, Artistic Director in a record company, etc.), Hervé was at the same time a film journalist for more than ten years where, in addition to reviews, he interviewed many actors and directors such as François Ozon and John Waters. After a stint as the owner of a Video Club, in 2012 he created the independent cinema distribution company: Destiny Films. It is a committed distribution company which defends, through fiction and/or documentaries, today's themes (Environment, Human Rights, Education, etc.). In around ten years, Destiny Films has released around fifty films, mainly first works by filmmakers from all over the world (Mexico, Russia, Ireland, Kazakhstan, Palestine... and of course, France). We can cite: The Education of Ademoka by Adilkhan Yerzhanov, Vigneronnes by Guillaume Bodin, Poisson rouge by Hugo Bachelet and Clément Vallos while waiting for Autobiography by Makbul Mubarak. Hervé's motto is "Life is a story of passion! As far as I'm concerned, there are two that have guided me along my path: Music and Cinema. Discovering films at a festival is always a pleasure, especially when they come from little-known cinematography.
Discovery is also a passion! "
---