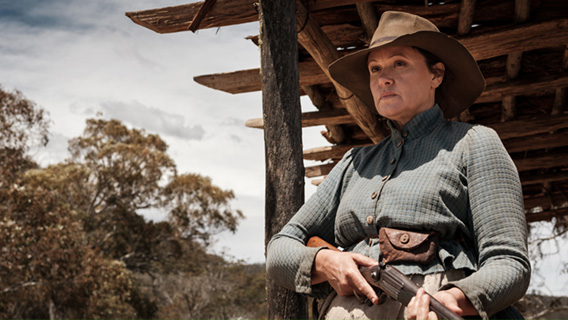 THE DROVER'S WIFE
Australia / 2021 / 108 min / DCP / Comedy drama


Director : Leah Purcell

Script : Leah Purcell
Cinematography : Mark Wareham
Editing : Dany Cooper
Music : Salliana Seven Campbell
Production : David Jowsey, Angela Littlejohn, Leah Purcell, Greer Simpkin, Bain Stewart
Cast : Leah Purcell (Molly), Rob Collins (Yadaka), Sam Reid (Sergeant Nate Klintoff), Jessica De Gouw (Louisa Klintoff), Nicholas Hope
In 1893, in Australia on an isolated property, Molly Johnson a pregnant woman and her children struggle to survive; her husband is gone, droving sheep in the high country. Molly then finds herself confronted by a shackled Aboriginal fugitive, Yadaka. Meanwhile, realizing Molly's husband is missing, Sergeant Clintoff becomes suspicious and sends his constable to investigate. The deadly encounter between Molly, Yadaka and the constable results in a tragic chain of events with Molly becoming a symbol of feminism and anti-racism.
Leah Purcell
Leah Purcell is a proud Goa-Gungarri-Wakka Wakka Murri woman from Queensland, Australia. She is an internationally acclaimed playwright, screenwriter, director, novelist and actor and a cultural icon and activist, whose work stands at the forefront of the Black and Indigenous cultural renaissance and protest movement sweeping Australia and the world. Australian Financial Review named Purcell as one of Australia's Top 10 culturally influential people because 'she allows white audiences to see from an Aboriginal perspective'.
Purcell is known to audiences internationally for her roles in Wentworth, Redfern Now, Jindabyne and Lantana.
Her extensive body of work includes: in TV as a director: Redfern Now, Cleverman, The Secret Daughter and My Life is Murder, in theatre: The Drover's Wife, Box the Pony and Don't Take Your Love to Town, and in print: Black Chicks Talking, The Drover's Wife play and The Drover's Wife The Legend of Molly Johnson novel.
Her first professional break came in 1993 when she was cast in Bran Nue Dae. In 1997 she was nominated for an Australian Film Industry (AFI) award for Best Actress in a TV Drama for her performance in Fallen Angels.
Film credits include: Last Cab to Darwin (dir: Jeremy Sims), My Mistress (dir: Stephen Lance), Lantana (dir: Ray Lawrence), Lennie Cahill Shoots Through (dir: Sarah Lancaster), Somersault (dir: Cate Shortland); The Proposition (dir: John Hillcoat); and Jindabyne (dir Ray Lawrence).
The Drover's Wife The Legend of Molly Johnson is her first feature film.
---