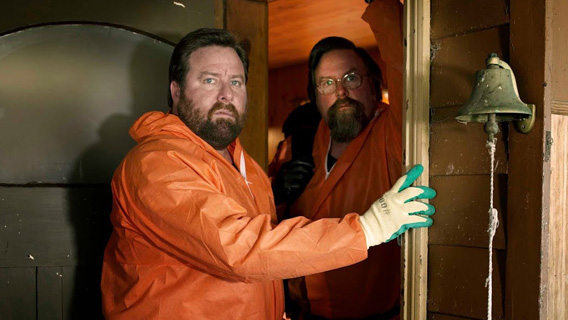 BROTHERS' NEST
Australia / 2018 / 102 min / DCP / Black comedy


Director : Clayton Jacobson


Script : Jaime Browne
Cinematography : Peter Falk
Editing : Clayton Jacobson, Sean Lander
Music : Richard Pleasance
Production : Jason Byrne

Cast : Shane Jacobson (Terry), Clayton Jacobson (Jeff), Kim Gyngell (Rodger), Lynette Curran (Mum), Sarah Snook (Sandy)

On a cold morning in the middle of country Victoria, two brothers arrive at their family home intent on murdering their stepfather Rodger. Terry and Jeff's motive is simple – killing their step-dad will render their dying Mother's plan to change her will in his favor redundant. A staged "suicide" has been meticulously planned but there is one thing the boys didn't take into account – spending an entire day together. Old grudges, different worldviews and a general troubled history will pit these two brothers against each other. 'Brothers' Nest' is a tragic comedy about family loyalty and murder – because after all "blood is thicker than water".
Clayton Jacobson
He is an award-winning producer, director and writer whose experience spans across feature film, documentaries, commercials and online content. He cut his teeth editing and directing music videos for local and international acts including U2, Crowded House, Midnight Oil and INXS. His debut comedy feature Kenny was a highly acclaimed box office hit, winning the 2006 IF Awards for Best Feature Film and Best Script, and the Film Critics Circle of Australia Award for Best Original Screenplay. He directed two episodes of the critically acclaimed comedy/drama series Miss Fisher's Murder Mysteries and the ABC-TV comedy showroom episode Moonman starring Lawrence Mooney. Clayton also wrote and produced a sell out casino show called A night out with Shane Jacobson and the Melbourne Ska Orchestra.
Clayton has also acted for many years in short films, features and television, including the beloved Aussie crime film Animal Kingdom and Jane Campion's internationally acclaimed series Top Of The Lake: China Girl. He has a role in Blumhouse's sci-fi title Upgrade, also premiering at 2018 SXSW Film Festival.
---