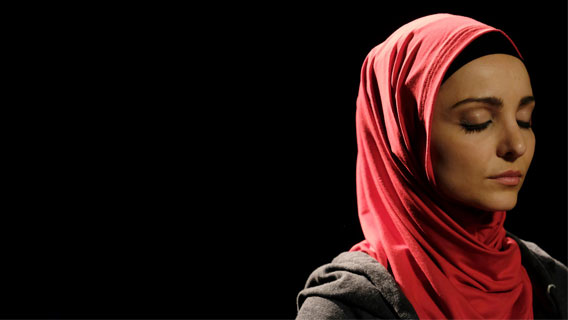 SLAM
Australia-France / 2018 / 115 min/ DCP / Comedy drama


Director : Partho Sen-Gupta


Script : Partho Sen-Gupta
Cinematography : Bonnie Elliot ACS
Editing : Annick Raoul
Music : Eryck Abecassis
Production : Michael Wrenn, Marc Irmer, Tenille Kennedy

Cast : Adam Bakri (Ricki), Rachael Blake (Joanne), Danielle Horvat (Ameena), Rebecca Breeds (Sally), Darina Al Joundi (Rana), Damian Hill (Shane), Chloe Boreham

Ameena, a young hijab wearing Australian of Palestinian origin, disappears one night after featuring in a slam poetry gathering in the suburbs of Sydney. An Australian air force fighter is shot down over Syria and the pilot is captured by the IS. The two unconnected events wreak hell in the quiet suburban life of Ricky (Tariq, Ameena's brother) who runs a small neighbourhood hipster café with his wife Sally. Ameena cannot be found. In a climate of mistrust and xenophobia, it is suggested in the media that she is not a missing person but a 'home grown radical' who has gone to Syria to join the Islamic State.
Introduced by Darina Al Joundi
Partho Sen-Gupta
Partho Sen-Gupta was born in Mumbai, India in 1965. He worked as Art Director and Production Designer on feature films, TV series and commercials in India. He then studied Film direction at the FEMIS in Paris. His first feature film, 'Let the wind Blow' premiered at the Berlinale. His second feature film 'Sunrise' premiered at the Busan IFF and since screened at 2015 Tribeca, Munich, BFI London, Sitges, Sydney, Melbourne etc. and won awards. It was nominated at the Asia-Pacific Screen Academy Awards. After living in France for over a decade, he now lives and works in Sydney, Australia. 'Slam' is his third feature film.
---