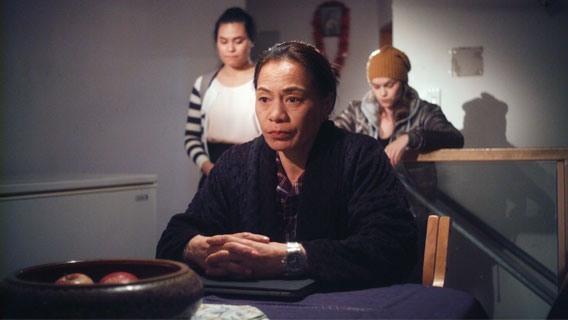 HIBISCUS AND RUTHLESS
New Zealand / 2018 / 97 min / DCP / Romantic comedy


Director : Stallone Vaiaoga-Ioasa


Script : Stallone Vaiaoga-Ioasa
Cinematography : Riki Reinfeld
Editing : Jack Woon
Music : Andrew Faleatua
Production : Abba-Rose Vaiaoga-Ioasae

Cast : Suivai Autagavaia, Anna-Maree Thomas, Lafitaga Mafaufau, Yvonne Maea-Brown

Hibiscus (Suivai Pilisipi Autagavaia) and the take no nonsense Ruth (Anna-Maree Thomas) have been friends since school. But now Hibiscus is in her final year of university, and her domineering mother doesn't want any boyfriends getting in the way; Hibiscus must follow the rules of her mum (Lafitaga Mafaufau), education first, boys later. So Hibiscus enlists Ruth's help, to handle the temptations of a line of potential suitors. "While it has its comedic elements, it is also a film dealing with a very real problem, the disconnect that can form between parents and their children and how that can happen from both sides.
Closing Film
Stallone Vaiaoga-Ioasa
Stallone Vaiaoga-Ioasa is a New Zealand born Samoan freelance television director and camera operator. With almost a decade's experience working on NZ magazine and youth shows. He made in 2016 his first feature film Three Wise Cousins which was self-funded and self-distributed. Three Wise Cousins exceeded all expectations to make $NZ970,000 at the New Zealand box office. Hibiscus and Ruthless is his second feature.
---