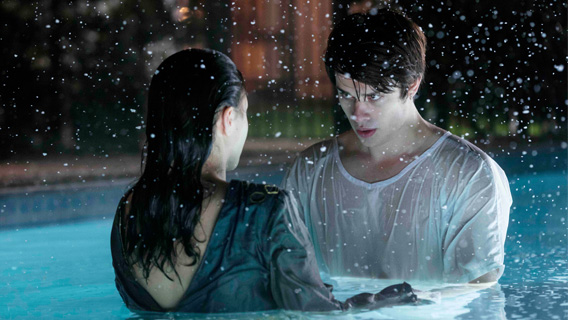 THE CHANGEOVER
New Zealand / 2017 / 95 min / DCP / Fantastic


Director : Miranda Harcourt, Stuart McKenzie


Script : Stuart McKenzie adapted from a Margaret Mahy's novel
Cinematography : Andrew Stroud
Editing : Dan Kircher
Production : Emma Slade

Cast : Erana James, Timothy Spall, Melanie Lynskey
Introduced by Miranda Harcourt, Stuart McKenzie
The Changeover is based on the Carnegie Medal winning novel by Margeret Mahy. Sixteen year-old Laura Chant lives with her mother and four-year-old brother Jacko in a poor new suburb on the edge of a partially demolished Christchurch, New Zealand. Laura is drawn into a supernatural battle with an ancient spirit who attacks Jacko and slowly drains the life out of him as the spirit becomes ever younger. Laura discovers her true identity and the supernatural ability within her, and must harness it to save her brother's life.
Stuart McKenzie
Born in Christchurch, Stuart is a writer, director and producer. His first play The Joffongract was performed in Christchurch in 1983. He wrote many other plays and also co-wrote with his wife Miranda successful plays as Biography of My Skin (1998). He has produced, written and directed several acclaimed short films, including The Mouth and the Truth. His debut feature is a psychological thriller For Good. The Changeover co-directed with Miranda Harcourt is his second feature film.
Miranda Harcourt
New Zealand actress, she graduated Toi Whakaari, New Zealand Drama School, in 1984. She was also a pioneer of verbatim theatre in New Zealand, in creating Verbatim (1993). She also co-wrote with her husband many plays including My Mother's Garden. She is the daughter of Dame Kate Harcourt, one of the greatest New Zealand actresses. She directed some shorts films and co-directed The Changeover. She is also teaching and coaching. Harcourt was the acting coach on a number of international and local feature films, including Bridge to Terabithia (Best Actress 2008 Young Artist Awards as well as Best Ensemble Cast) directed by Gabor Csupo, Jane Campion's Bright Star (in competition for the 2009 Palme d'Or), Peter Jackson's The Lovely Bones and Heavenly Creatures, Jonathan King's Under the Mountain (Best Foreign Actress China's Golden Lion), Gaylene Preston's Home By Christmas (2010), Taika Waititi's Boy.
---