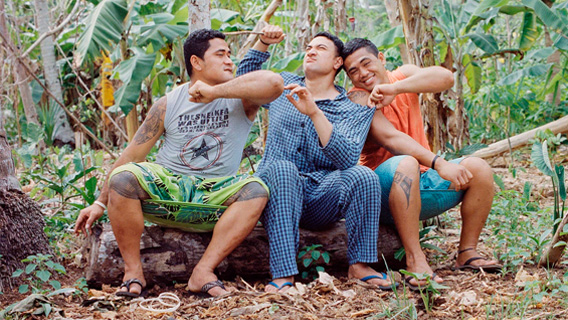 THREE WISE COUSINS
New Zealand / 2016 / 89 min / DCP / Comedy


Director : Stallone Vaiaoga-Ioasa


Script : Stallone Vaiaoga-Ioasa
Cinematography : Stallone Vaiaoga-Ioasa
Editing : Jack Woon
Music : Andrew Faleatua
Production : Stallone Vaiaoga-Ioasa, Wilhelm Voigt

Cast : Neil Amituanai, Gloria Ofa Blake, Valelia Ioane, Fesuiai Viliamu, Vito Vito

Introduced by Stallone Vaiaoga-Ioasa
Adam, a young New Zealand born Samoan, tries to impress the girl of his dreams; however he finds that she only wants to go out with a 'real island guy.' Undeterred Adam decides to travel to Samoa, to find his cousins and get him to teach him how to become a 'real island guy' and win the girl of his dreams. It's a simple plan until Adam discovers something he didn't expect.
Stallone Vaiaoga-Ioasa
Stallone Vaiaoga-Ioasa is a New Zealand born Samoan freelance television director and camera operator. With almost a decade's experience working on NZ magazine and youth shows. He made in 2016 his first feature film Three Wise Cousins which was self-funded and self-distributed. Three Wise Cousins exceeded all expectations to make $NZ970,000 at the New Zealand box office. His latest feature Hibiscus and Ruthless was released in 2018.
---