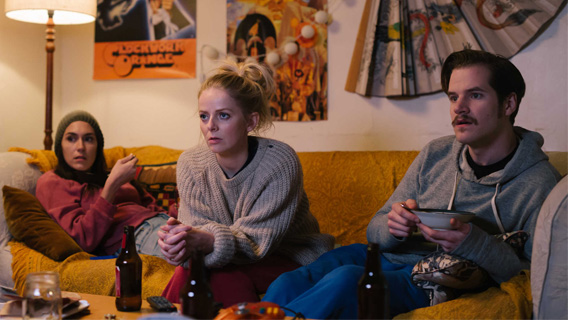 Australia / 2017 / 85 min / DCP / Comedy


Director : Gregory Erdstein

Script : Gregory Erdstein, Alice Foulcher
Cinematography : Shelley Farthing-Dawe
Editing : Ariel Shaw
Music : Nicholas Pollock
Production : Gregory Erdstein, Alice Foulcher, Anna Kojevnikov, Sally Storey

Cast : Alice Foulcher (Polly Cuthbert), Isabel Lucas (Zoe Cooper), Richard Davies (Jack Campbell), Belinda Misevski (Ariel), Rowan Davie (Oliver Brook)

Melbourne Film Festival 2017
Introduced by Gregory Erdstein and Alice Foulcher
Polly's dreams of making it as an actor are shattered when her identical twin sister Amy lands the lead role in huge TV show alongside Jared Leto. Mistaken for her famous sister at every turn, Polly decides to use Amy's celebrity for her own advantage – free clothes, free booze, casual sex… with hilarious and disastrous consequences for them both.
Raw and refreshing in its humour, 'That's Not Me' is a feel-good comedy about the difference between failure and disappointment. We can't all be Oscar winners. Not everyone will make it. But is that such a bad thing?
Gregory Erdstein
He is a graduate of the Victorian College of the Arts, School of Film & TV, Melbourne. He has collaborated with his wife, actress/writer Alice Foulcher, on several films including the controversial short film "Picking up at Auschwitz", the Tropfest finalist short "A Bit Rich" and "Paris Syndrome". They spent most of 2014 as artists in residence at the Cité Internationale des Arts in Paris, where they made "Paris Syndrome", and co-wrote the screenplay for their first feature film, "That's Not Me" which filmed in Melbourne and Los Angeles. The film have had its World Premiere in February 2017 at the Santa Barbara International Film Festival.
---