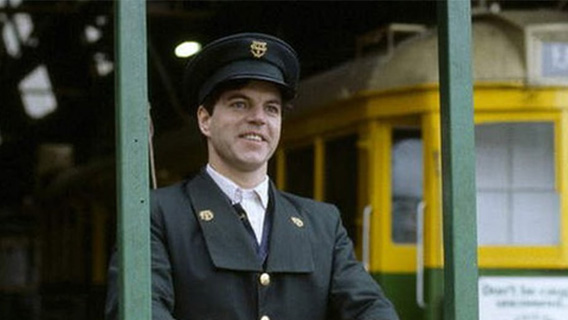 Australia / 1986 / 90 min / DCP / Comedy


Director : Nadia Tass

Script : David Parker
Cinematography : David Parker
Editing : Ken Sallows
Music : Simon Jeffes
Production : David Parker, Nadia Tass

Cast : Colin Friels, Lindy Davies, Chris Haywood, John Hargreaves, Charles 'Bud' Tingwell

Digitally restored
Introduced by David Parker (subject to change)

This charming and hilarious comedy is the story of slow-witted Malcolm a young man with a genius for mechanical devices. When Malcolm loses his job as a conductor – for building his own tram – he meets Frank a man with a shady past who moves in to help Malcolm pay the bills. Cue Malcolm's unusual entry into a life of crime. Assisted by Frank, and the remote control tinker toys he once used to pick up milk from the corner shop, Malcolm lays his plans to pull off the heist of the century…. Malcolm have had a huge success at the Australian box office and won 8 AFI Awards.
Nadia Tass
After pursuing an academic career in Arts and Education, Tass began acting and later directing classical and contemporary theatre in Melbourne. She directed her first feature film, MALCOLM, in 1986. Since then Tass has directed the Australian features RIKKY AND PETE (87), THE BIG STEAL (89), MR RELIABLE (97), AMY (98), MATCHING JACK (10). AMY received 23 international awards including Best Film at the Paris Film Festival (99), Grand Prix de Cinecole at Cannes Film Festival (99), Grand Prix Cannes Junior (99). In 2011 Tass was honoured with the Best Director award at Milan International Film Festival for MATCHING JACK, where the film also received Best Film and Best Screenplay awards.
Nadia's work in the US includes PURE LUCK (91) for Universal Studios, THE MIRACLE WORKER (00) for Disney, CHILD STAR: THE SHIRLEY TEMPLE STORY (01) for Disney, UNDERCOVER CHRISTMAS (03) for CBS Network, SAMANTHA: AN AMERICAN GIRL HOLIDAY (04), and FELICITY: AN AMERICAN GIRL ADVENTURE (05) for The WB (Warner Bros), and CUSTODY for Jaffe Braunstein Films. She also directed STARK (93), a mini series for The BBC/ABC television.
She has continued her relationship with commercial and subsidised theatre by directing for the Melbourne Theatre Company, and in 2002/2003 directed the musical theatre production of The Lion, The Witch and The Wardrobe, which toured Australia and New Zealand. Nadia¹s work was rewarded with a nomination for Best Direction Of A Musical in 2003 at the prestigious Sir Robert Helpmann Awards. Recently, Tass has directed "The Gronholm Method" (2010) and "The Aliens" (2011) for Melbourne's The Red Stitch Actors' Theatre, and "Three Women In An Ice-cream Cone" (2010) at London's Kings Head Theatre.Through her production company, Cascade Films, Tass combines the roles of Producer and Director. One of her key assets is her ability to develop ideas and first draft scripts into shooting drafts. Nadia's literary background holds her in good stead in this intricate complex process.
---